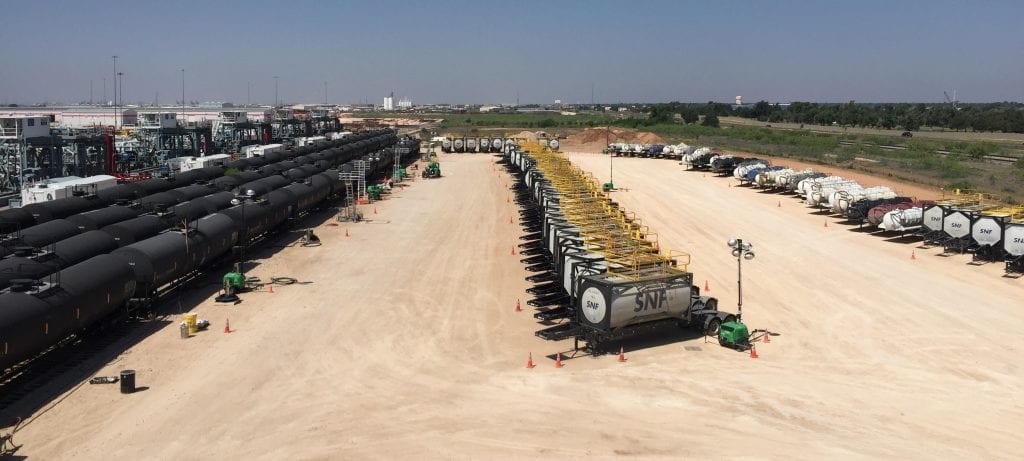 SNF understands the challenges of working in remote regions of the world where most oil and gas assets are located.  We also understand the critical nature of receiving products to support operations on time, in the quantities you need, and delivered in the most efficient manner possible.  SNF has years of experience in providing polymers to remote locations for oil and gas drilling, cementing, and completions.  We satisfy our customers' logistical needs with:
Multiple Large-Scale Manufacturing Plants Around the Globe
SNF has manufacturing locations on 5 continents, ensuring the security of supply and timely delivery to best support our customers' operations.
Efficient Transportation
SNF has multiple bulk transportation options for shipping products from our production sites to the basin of operations.
600 bulk rail cars in our North American fleet for transporting friction reducers to hub locations within the major basins
900 dry bulk containers for shipping powders
Multiple packaging and shipping options to meet individual customer needs
Hubs
SNF maintains rail-to-truck trans-loading facilities in all the major basins to provide efficient shipping, and an inventory of products to meet individual customer needs when and where it is required.
Last Mile Logistics
One of the most challenging aspects of upstream operations today is transporting products the "last mile" to the well site.  SNF has the equipment and partnerships to ensure our customers will receive delivery of essential products on time, every time!
SNF has 100 ISO-tainers in our fleet to provide 24/7 delivery capability for efficient, economical, and easy-to-use storage to support completion operations.
Customer Service
SNF incorporates all our capabilities together to support our customers with 24/7, world-class customer service.  We know that Oil & Gas operations don't stop when the sun goes down.  So, support for our customers doesn't stop, whether it be night, day, weekend, or holiday, our friendly, knowledgeable, and efficient customer services staff is only a phone call or email away.
---