SNF is a specialty chemical group whose products, water-soluble polymers, contribute to treating, recycling, preserving water, saving energy, and reducing carbon footprint.  A pioneer in soft chemistry, SNF has long been present on all continents, employing 7,500 people, including more than 2,000 in the USA.  Innovation and movement toward a cleaner, less carbon-intensive world accelerates SNF's growth.
With a turnover of $5.1 Billion in 2022, SNF is the world's leading manufacturer of water-soluble polymers and associated monomers.  SNF has major production sites in the USA (Riceboro, GA; Plaquemine, LA; Pearlington, MS); Europe (France, UK); and Asia (China, India, Korea), with many smaller plants located throughout the world.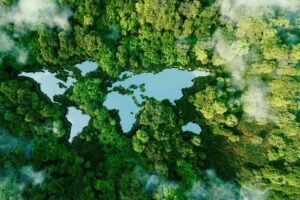 SNF Holding Company, a member of the French-based SNF Group, is the market leader in polyacrylamide-based flocculant and coagulant polymers for water and wastewater treatment industries in North America.  Our products are used in various specialty applications, including municipal drinking water and wastewater, industrial process water and wastewater, oil & gas, mining, agriculture, paper, personal care, textiles, construction, and cleaning products.
SNF acquired the Riceboro, GA site in 1986, with the purchase of Chemtall Incorporated.  Since then, Riceboro has continually expanded and is now the largest SNF production site with more than 1,400 employees.  This location also serves as the corporate headquarters for SNF's North American operations (SNF Holding Company).
The Riceboro site produces acrylamide monomers and cationic monomers used to manufacture polyacrylamide flocculants in powder, emulsion, and solution forms.  Riceboro also makes dispersants, coagulants, cosmetics, and other specialty chemicals.
SNF is the only leading manufacturer with an extensive product line that includes:
Cationic monomer
Acrylamide monomer
Solution, powder, emulsion, and mannich grade polymers
Organic coagulants polyDADMAC and polyamine
Dispersants
SNF can better control costs, maintain finished product inventory, and ensure our products are of the highest quality.  We manufacture key raw materials at our ISO 9001:2015 certified facilities and have multiple vendors for some of our other key raw materials.
Leveraging these advantages enables SNF to offer the following benefits:
Lowest market pricing
Reliable product sourcing
Extensive product range available from a single source
Economic polymer equipment sourcing/support
Targeted training and support services
Experienced field support staff
---
Water: Preserving a Natural Resource
As a result of urban development, growing industrialization, and large-scale irrigation, ever-increasing amounts of water are needed.  Wastewater treatment, drinking water production, and industrial water recycling have therefore become central to ensuring the world's sustainable development and the well-being of the planet's population.  Therefore, effective solutions and responses tailored to match individual operating conditions are needed.
SNF has maintained a strong position in the water treatment sector since the company was founded in 1978.  To meet the needs of this ever-growing market, we have developed a product range of more than 1,000 organic coagulants and flocculants, which we are constantly expanding and fine-tuning.
CommuniCALL High-Speed Notification System

CommuniCALL is SNF Holding Company's community emergency notification system for residents who live near our manufacturing facilities in the event of a chemical emergency.  The automated system provides notifications to predefined call lists that can be delivered to any telephone or email address.  The Citizen Registration System allows residents to add contacts to the system via phone or the internet.  Unlisted phone numbers (including mobile phone numbers) may be registered by submitting information via the UNLISTED NUMBER REGISTRATION link shown below.
CALIFORNIA TRANSPARENCY IN SUPPLY CHAINS ACT OF 2010

SNF Holding Company and its affiliates are supporters of the California Transparency in Supply Chains Act of 2010 (SB 657). The purpose of the Act is to increase the amount of information available to the public regarding the efforts by manufacturers and retailers to address the issue of slavery and human trafficking in their supply chains.
SNF Holding Company and its affiliates take the following efforts to ensure that all individuals within its supply chain are free from slavery and human trafficking.
We incorporate the California Transparency Act – Code of Basic Working Conditions in the 'terms and conditions' portion of all purchase orders, a copy of which is included with all of our purchase orders. Acknowledgment and acceptance of our purchase order shall be deemed to constitute acceptance and verification of the supplier's intention to comply with the Code of Basic Working Conditions. At this time, we do not engage a third party to participate in these verifications.
We seek to verify our suppliers' compliance with our Code of Basic Working Conditions by attempting to incorporate the Code of Basic Working Conditions in all new contracts. At this time, we do not employ an independent, unannounced audit.
We request that our direct suppliers certify that all materials provided to SNF by the supplier were manufactured by employees who are not victims of slavery or human trafficking.
We require employees of SNF Holding Company and its affiliates to be familiar with our Code of Basic Working Conditions and to immediately advise our management team in the event that a supplier does not comply with those requirements.
We provide training on human trafficking and slavery to all employees who have direct responsibility for supply chain management.
---
Empty Container Pickup (U.S. Customers Only)
SNF has contracted with Mauser Packaging Solutions to provide empty container pickup services for SNF-supplied drums and totes. Please click the link below to learn more about the service and to schedule the return of empty containers.*
*Restrictions and limitations apply.
---
SNF U.S.A. Regional Certifications