SNF SA encompasses the activities of the production sites of Andrézieux-Bouthéon (Loire, Rhône-Alpes region) and Saint-Avold (Moselle, Grand Est region).
---
Preserving Natural Resources
SNF's products help preserve natural resources.  Likewise, our manufacturing processes are designed to minimize the environmental impact of our operations.  Our primary monomer is therefore produced enzymatically at room temperature under atmospheric pressure. Given the volumes involved, this biological catalytic process makes us a pioneer of soft chemistry.
SNF is constantly improving its processes to protect the environment, and many changes have been made in our factories to limit waste and discharges.  Processes that consume large quantities of water have been eliminated, thus reducing water consumption for each product in the space of ten years.   Furthermore, rinsing water is partially re-circulated through the installation, thus lowering the required volumes by 70%.  The choice of processes, installation design, and employee training ensure that production activities are extremely safe.
SNF has 4 Primary Research and Development centers, including one based in Andrézieux-Bouthéon, in the Auvergne Rhône Alpes region.  12 Applications Laboratories for New Product Formulation Testing and Development complete the system.
Our research and development experts and technical field support represent a group of about 250 field specialists and 420 scientists and technicians, with approximately 40% located in France. Each year SNF dedicates 1.2% of its turnover to developing new products and processes.
Nearly 84% of R&D expenditure concerns at least one of the five pillars of the SNF Responsible Chemistry approach.
We continuously monitor technical feedback from customers and end-users to enhance and expand our product portfolio of polymers.
SNF Employees are the Backbone of Our Success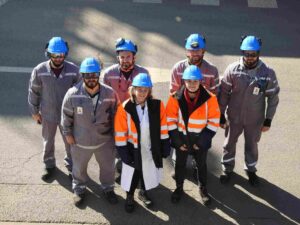 Our employees form a unique community in terms of their expertise, profession, nationality, role, and personality.
In total, SNF employs 7,500 people in 50 countries, each of whom contributes to its operation and development, making it the world leader in its field.  Creating the optimal conditions for their well-being and development is a priority.
Gender Equality
SNF emphasizes professional parity between women and men and ensures that women benefit from salary conditions and career development opportunities similar to their male counterparts. The male / female index, made mandatory in France in 2019, is a relevant evaluation criterion of the policy carried out.  For 2022, SNF obtained a score of 89/100. View details of the male / female index here.
Female/male representation on the SNF France Management Committee:
SNF has a long-standing presence on all continents, employing 1,546 in France in 2022, mainly in Andrézieux-Bouthéon, near Saint-Etienne (Loire), in the Rhône-Alpes region, and in Saint-Avold (Moselle).
In line with its strategy of geographic growth, SNF promotes the proportion of local workers in its teams and management, a key factor in team performance and attracting talent.
In the countries where SNF operates, local skills and know-how are favored at all levels, up to and including senior management and high responsibility teams.
SNF's Human Resources policy is based on a dynamic training policy focusing on three main areas (safety at work, management, and increasing employee skills) and an organic growth policy based on constant recruitment to meet the growing needs of production, customer development, and R&D.
---
Regional ISO Certifications
ISO, the International Organization for Standardization, is an independent, non-governmental organization, the members of which are the standards organizations of the 164 member countries. It is the world's largest developer of voluntary international standards and facilitates world trade by providing common standards between nations. Nearly twenty thousand standards have been set covering everything from manufactured products and technology to food safety, agriculture, and healthcare. Use of the standards aids in the creation of products and services that are safe, reliable, and of good quality. The standards help businesses increase productivity while minimizing errors and waste. By enabling products from different markets to be directly compared, they facilitate companies in entering new markets and assist in the development of global trade on a fair basis. The standards also serve to safeguard consumers and the end-users of products and services, ensuring that certified products conform to the minimum standards set internationally.
Additional Certifications
SNF products and facilities are held to the highest standard and have also been certified by several outside regulatory agencies for sustainability, safety, and social responsibility efforts.
SNF Conditions of Purchase / Sale