This year, SNF Personal Care submitted their 84% USDA Certified Biobased Cold Process Mineral SPF 50+ Sunscreen formulation for the 2022 Cosmetics & Toiletries® Allē Awards.  These awards honor cosmetic innovations ranging from sustainable ingredients and product formulas to digital technologies.
SNF's Cold Process Mineral SPF 50+ formulation contains NATURSOL™ EMI 132, an emulsifying, texturizing, and stabilizing agent that is 67% naturally derived and 100% Vegan.  This provides a Natural Index close to 100% and creates a light texture, fresh touch, and soft after-feel in sunscreen formulations.
All entries were rated for their merits on sustainability, multifunctionality, novelty, claims support, and utility.
WINNER
Most Significant Sun/Light Protection Formula–Mass:
Cold Process Mineral SPF 50+ Formulation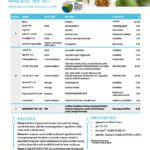 From the Judges:"It's great that the formula is cold processed, [from a] sustainability [standpoint]. …This formula does represent a good alternative to chemical SPF products in a stable and reliable form.  The use of NATURSOL™ EMI 132 as a unique stabilizing ingredient would lend a considerable amount of stability to traditionally unstable physical sunblocks. … Congratulations on an incremental but significant advance in cosmetic emulsion formulation!"
---
Interested in this formulation? Contact inquire@snf.com.