On October 24, 2013, SNF Holding Company (Riceboro, Georgia)  was presented with the 2013 International Business of the Year Award by the World Trade Center of Savannah at the 2013 Savannah Internal Trade Center Expo.  This award recognizes companies that excel in international trade and acknowledges the importance of trade to the Savannah region's economy.  It is presented to encourage and recognize exemplary corporate leadership for international business that advances relations between the United States and other nations, as well as creates quality jobs in the Savannah region.
SNFHC President, Peter Nichols, accepted the award on behalf of the company.  This is indeed a very high honor for SNFHC, and we are very proud of this accomplishment.  Each employee takes pride in the fact that their daily efforts are helping our company achieve success and being recognized for our efforts across the board.  Without everyone's continued efforts to work safely, to produce world-class quality products for our customers, and to be good stewards of our community and the environment, we would not be able to achieve such an honor.
SNF Holding Company congratulates all of its outstanding employees, supportive local community, and offers sincere thanks to our loyal customers for making this award possible.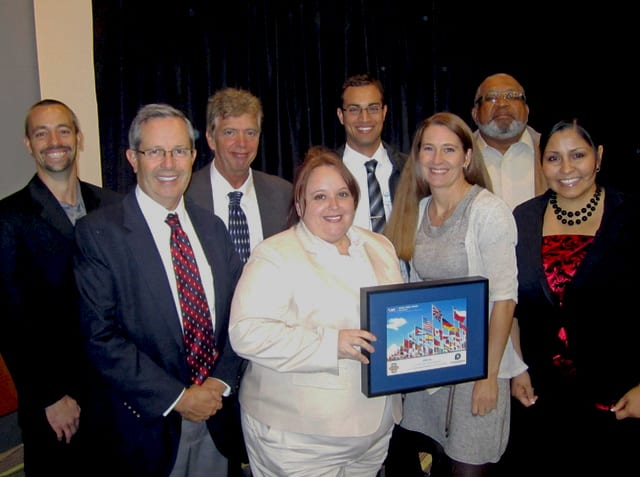 [L-R] Ed Carpenter; SNFHC President, Peter Nichols; Joe McCullough; Stacy Hamlin, Ramesh Srinivas; Shondi Karoudjian, Ron Copes, Maria Whitfield
Other employees of SNF Holding Company were on hand when the award was presented that evening.  Shown and described in the photo above, they represented various departments of SNFHC (Riceboro):  Accounting, Production, Production Planning, Safety, Customer Service, and Human Resources.