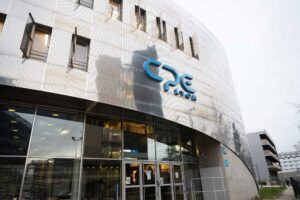 On January 4, 2022, our teams visited the premises of CPE Lyon on the occasion of the inauguration of the brand-new organic chemistry laboratory sponsored by SNF.  CPE Lyon is a higher education institution in Lyon, France dedicated to chemistry, chemical engineering, and digital sciences.
As a long-standing partner of the school, SNF is renewing its support for the CPE Lyon school by participating in the "naming" campaign launched a few months ago. It is with great pride that SNF gives its name to the new teaching laboratory in organic chemistry.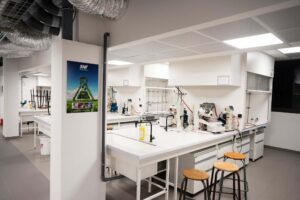 This action aims to support courses in Chemistry and Process Engineering. Indeed, SNF encourages the relationship between academia and industry in order to promote scientific culture and its professions to young audiences, while highlighting the need for a transition towards sustainable and responsible chemistry.
Many thanks to Gérard PIGNAULT, Director of CPE Lyon, Isabelle Favre, Corporate Relations Officer as well as Claude De Bellefon, CPE and Research Scientific Director at the CNRS and Christine Legrand, Director of Communication and Corporate Relations. Thank you also to the entire teaching team of CPE Lyon for their warm welcome.

And finally, thank you to Cedrick Favero, Managing Director, SNF, and Christophe Rivas, Director of Oil & Gas for the accomplishment of this beautiful project. We would also like to thank our David Marouby teams, Hanène VANHOUTE; Marine Menu; Samuel Tricard.