The selection of the right ingredients is a key point in formulator expertise. SNF products provide water release control and rheology (flow, texture, fluidity, anti-sagging). Our products help formulators meet customer specifications and challenges, among numerous segments such as mortars, renders, flooring, concrete, sealants, and adhesives.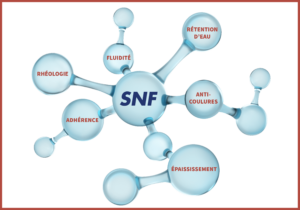 Even if used at a low dosage in compositions (sometimes less than 1%), ingredients such as rheology modifiers, thickeners, and dispersants can significantly improve application properties.  Thanks to their benefits and effectiveness they have become essential components of mortars, renders, flooring, screeds, underlayments, concrete, acrylic sealants, and aqueous adhesives.
Today, a large number of composition properties are directly correlated to rheology:
Pot appearance for ready-to-use paste & premixes, once hydrated
Anti-sagging when applied on vertical surfaces (tile adhesives, etc.)
Optimization of the compromise fluidity/resistance to bleeding in flooring formulations
Moisture management and water release control, for example towards natural evaporation or suction of porous substrates
The FLOSET™ polymer range has been developed as a toolbox to optimize market formulations and achieve end users' key goals.
SNF makes the selection of ingredients easier for formulators and addresses specific business goals, solving technical challenges with chemical solutions leading to business value.
---
Products for Formulators
Adhesion and Tack Promoters
| Product Category | Description |
| --- | --- |
| FLOSET™ BD / TSLV | High-quality polymer, used as an adhesion promoter in complement of re-dispersible powder (as Polyvinyl Acetate-based resins…) in order to boost adhesion performance of the global composition. |
Anti-Sagging
| Product Category | Description |
| --- | --- |
| FLOSET™ 100 Series | Full range of fine powder polymers designed to deliver anti-sag properties to tile adhesive compositions once hydrated and when applied onto vertical surfaces. These unique polymers are used in combination with other pure derivatives of cellulose, guar, starch, etc. Widely used with trends moving to larger tile use. |
Fluidizers & Superplasticizers
| Product Category | Description |
| --- | --- |
| FLOSET™ SH / AH / AD | Liquid & powder superplasticizers: highly efficient dispersing agent, specially designed to provide water reduction, workability, and adjusts plasticity of hydraulic binder-based compositions such as concretes, mortars, and screeds requiring self-leveling, well placing, and extended open time properties. |
| FLOSPERSE™ CT | Polymeric ready-to-graft precursors, used as backbone in grafting manufacturing process of side chain-superplasticizers. |
Stabilizers and Anti-Bleeding
| Product Category | Description |
| --- | --- |
| FLOSET™ VM | Specialized high molecular weight powder polymers acting as viscosity modifying agents designed to prevent bleeding and segregation. Highly suitable for stabilization of very fluid cement and calcium sulfate-based mixtures. |
Thickeners and Texturizers
| Product Category | Description |
| --- | --- |
| FLOSET™ VLC | Efficient thickeners in powder form achieve desired texture in all coating and adhesive formulations in premix forms which require, once hydrated, viscosity increase, stability of insoluble components (such as pigments or fillers), and flow modification. |
| FLOSET™ TH | Ready-to-use concentrated liquid thickeners, supplied in a pre-neutralized form requiring no additional alkali to reach desired thickening. Provides for flexible use as it can be added at any stage of formulating/production (including post-thickening) of aqueous coatings and adhesive formulations, especially when requiring viscosity increase, stability of insoluble components (such as pigments or fillers), or flow modification. |
Water Retention and Porosity Control
| Product Category | Description |
| --- | --- |
| FLOSET™ 20 Series | Highly structured polymers able to absorb a large amount of aqueous liquid or brines, retain it for some time, and to release it in a controlled way. Special benefits such as extended open time to mortar compositions, and delivering internal curing to concrete formulations (enhanced cement hydration, increased mechanical strength, reduced shrinkage). At a higher dosage, it provides a network of voids resulting in controlled porosity, thermal insulation, or lightweight structures. |
---