Jan 13, 2021
SNF Strengthens Involvement with the U.N. Global Compact
To further its commitment to the Ten Principles of the Global Compact and 17 Sustainable Development Goals (SDG), The SNF Group has decided to strengthen its involvement with the U.N. Global Compact by becoming a "Participant" member.
The SNF Group is involved in Corporate Social Responsibility (CSR) topics and has been for many years.  SNF demonstrated its commitment in 2008 by our company's adherence to the U.N. Global Compact.  In 2021, SNF has strengthened its commitment by upgrading our status from Signatory to Participant.  As a Participant Member, The SNF Group commits, through the U.N. Global Compact to actively engage in sustainability, operational efficiency, transparency, and innovation.
Therefore, the SNF Group is committed to the universal principles of human rights, labor, environment, and anti-corruption in all operations and strategies.  Our senior management's ongoing commitment is reflected each year in a communication (COP) classified as "GC advanced" (highest performance level) posted on www.snf.com and the U.N. Global Compact website: https://www.unglobalcompact.org/.
SNF renforce sa participation au Global Compact des Nations Unies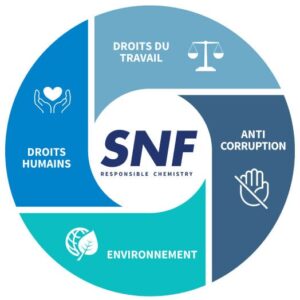 Afin de renforcer son engagement envers les dix principes du Global Compact et les 17 objectifs de développement durable, le groupe SNF a décidé de devenir membre "participant".
SNF s'implique dans les sujets de la responsabilité sociale des entreprises (RSE) depuis de nombreuses années. Dès 2008 le groupe a démontré son engagement avec l'adhésion au Global Compact.  Pour aller plus loin, SNF a décidé de renforcer sa collaboration en devenant membre « participant » plutôt que simple membre « actif ». Le groupe SNF s'engage donc à respecter les principes universels des droits de l'homme, du travail, de l'environnement et de la lutte contre la corruption dans ses opérations et ses stratégies.
Cet engagement permanent se traduit par la publication d'une communication (COP), sur le site web de SNF www.snf.com et sur celui du Pacte Mondial https://www.unglobalcompact.org/